WAY OF SUCCESS SET
Success Framework Workbook and Gold Lite Kit Bar 1.00 g X 8
Goal
Wisdom and Financial Security is a combination on which the prosperity of a person, family, nation is based. The WAY OF SUCCESS SET successfully combines tools for gaining wisdom and material well-being. The indisputable advantages of Workbook and gold are enhanced by an additional advantage — the function of receiving bonuses instantly.
Log in or register on the website to purchase a product
DESCRIPTION
WAY OF SUCCESS SET includes: Success Framework Workbook — a strategically important tool for modeling and shaping your ideal future; 8 gold bars weighing 1 gram — a time-tested means of achieving Financial Security. A Direct Seller instantly receives 2,000 bonuses for selling the kit. Purchasing the WAY OF SUCCESS SET gives you access to the Lite marketing table, gives you the opportunity to build your business and increase your income.
Products in group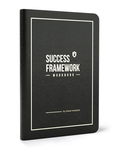 1Х Success Framework Workbook