5 life lessons to learn and succeed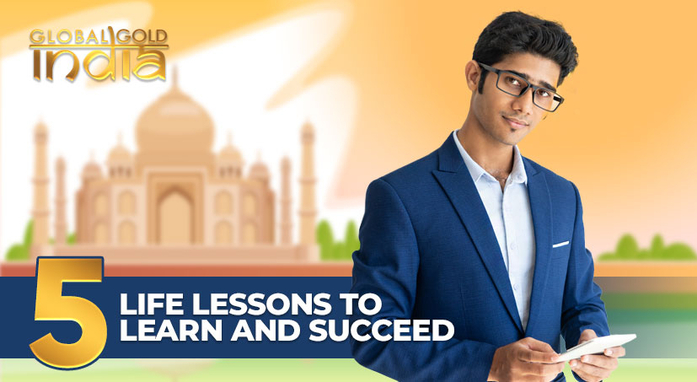 How to stop hesitating, brace yourself and start moving to your brand new life you dream about?
Let's find it out together!
1. Confidence comes first
Successful people tend to exude confidence, but it isn't their success that makes them confident. It's vice versa: they wouldn't be able to reach heights, if they didn't believe in themselves. Doubt breeds doubt, that is why many get stuck in dead-end jobs, are afraid to go beyond the inconveniences and disappointments they're used to, and let golden opportunities pass by.
Confidence is an important step on the ladder that leads to success. Fortune favors the bold, keep that in mind!
2. You live the life you've created
Don't be a victim of circumstance. Everything around you is what you have surrounded yourself with. Likewise, your future depends on each step taken towards it. If you feel it's time to act — take risks, move, and don't be afraid.
Lean on eternal wisdom: "It is better to be at the bottom of the ladder you want to climb than at the top of one you don't".
3. Don't say "YES" when you don't really want to
A research conducted by the University of California has shown that people who find it hard to say "no" are more likely to face stress, burnouts and even depression. "NO" is a powerful word indeed, and many are afraid to say it especially when it comes to friends and loved ones. Even if "YES" is to the detriment of their own. But you don't have to agree to everything!
You'd better avoid trying to smooth things over with such options as "I'm not sure", "I'll think about it", etc. No means no, listen to your inner voice.
4. Don't dwell on past errors
Even if something went wrong and you failed, let it go and don't blame yourself. Instead of focusing on mistakes, you'd better move on! Any result — positive or not — leads to experience broadening, which is priceless.
Often people stumble when they try something new. But if you don't give up, your perseverance and patience will be rewarded.
5. Focus on solutions, not troubles
Right attitude is half the success. What happens if you concentrate on problems? A negative environment starts brewing around. What is the way out? To think about the actions that need to be taken to solve the problems.
And not only to think, but apply them in practice and pave your way to new heights!
Do you want to find the right solutions as quickly as possible?
The Global IndiaGold online platform has something that will help you. A special tool for personal development and self-improvement of entrepreneurial skills — Success Framework Workbook — will be your reliable companion on the path to the desired goals.
With the help of the tool, you will learn to think and take action in a new way by correctly identifying and benefiting from the factors that contribute to success.
Show yourself and others what you are capable of!