Investment gold bars: what are the advantages?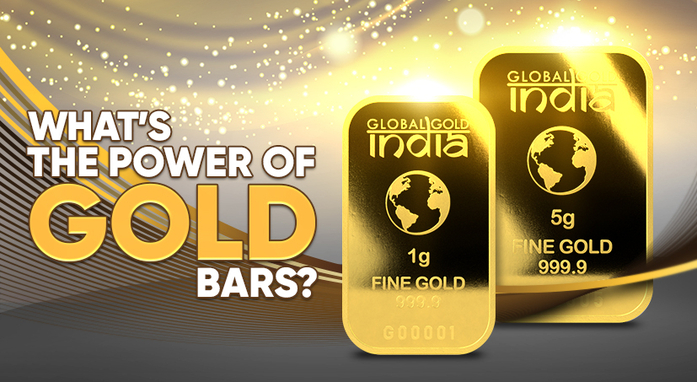 The product range of the Global IndiaGold online store has recently been supplemented with investment gold bars of two denominations: 1 gram and 5 grams.
As we know, gold is renowned not only for its stunning beauty and durability. The main advantage of the valuable metal is its endurance in the face of economic threats.
While gold jewelry is meant to please the eye or serve as a valuable gift, investment bars primarily protect your savings from inflation and other crisis phenomena.
The highest quality
The investment gold bars are ingots made of gold, the fineness of which is no less than 995 (23,88 karats). The exclusive Global IndiaGold bars are of the highest fineness: 999.9.
The fineness is an indicator of gold content in the metal alloy.
For example, the fineness of 999.9 means that the alloy contains 99.99% of pure gold.

A globally recognized defensive asset
The price of investment gold is determined by the ratio of supply and demand on the market as well as by the state of the world economy. In times of crisis, when currencies weaken, the price of the noble metal usually increases.
Such a peculiarity makes investment gold an effective Financial Security tool. The yellow metal is widely used as an insurance against inflation and currency fluctuations. Experts recommend storing 10-20% of savings in gold.
An opportunity to accumulate funds
The price of the gold bar changes along with the market price of the yellow metal: as the market price grows, so does the bar become more valuable. Over the past 20 years, the price of gold has increased by more than 570%, proving that bars are a profitable long-term investment.
We know that our clients are people who care about the future and strive for a high standard of living. Therefore, we suggest that you form your personal gold reserve using exclusive branded Global IndiaGold bars.
Purchasing them provides a double benefit: you become the owner of the precious metal and simultaneously score points for accessing the marketing program!
Make the right choice:
become the owner of the best financial asset in history!