GOLDSET SMART KIT — that's what an entrepreneur needs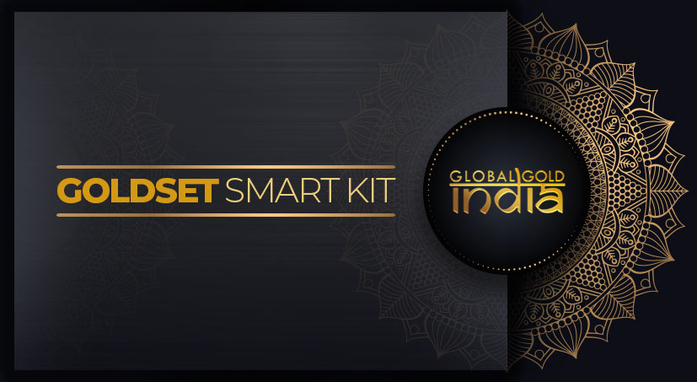 Anyone who is engaged in business should adhere to the following rules in their activities:
1. Keep track of time. A self-respecting entrepreneur is never late for business meetings. Your punctuality and time management skills will make a good impression on clients, enhancing a reputation of a trustworthy person.
2. Always be ready for business. Life is unpredictable. Opportunities for a successful business can arise at any time, in the most unexpected places. A casual conversation with a stranger on an airplane, train, in cafe or hotel can make him/her interested in the product that you offer. Wherever you are — be prepared to conduct business negotiations and organize a product presentation.
Bearing all this in mind, we have developed the GLOBAL INDIAGOLD GOLDSET SMART KIT.
Buying a kit automatically gives access to the Smart table of the GoldSet marketing program.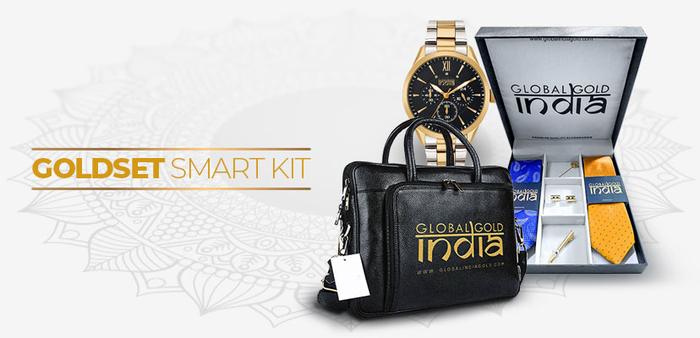 It includes the GLOBAL INDIAGOLD CLUB ACCESSORIES BOX and two practical accessories to make it easier for you to achieve success.
GLOBAL INDIAGOLD CLUB MEN'S BLACK DIAL STAINLESS STEEL WATCH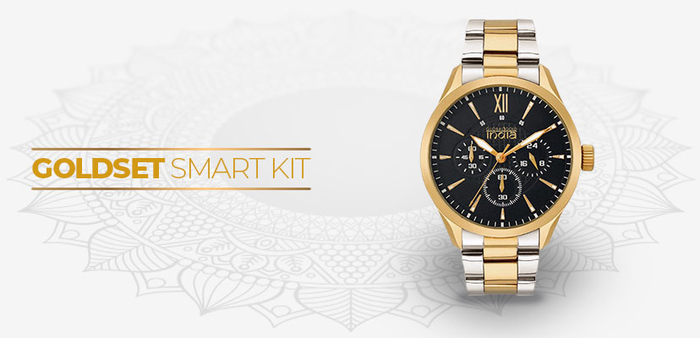 Keeping track of time is not only easy, but also pleasurable when your wrist is adorned with elegant watch made using Swiss technology. Global IndiaGold branded wristwatch will show you the exact time while demonstrating your high status and refined taste to everyone around you.
High-quality Swiss movement will help you always be in the right place at the right time. Exclusive wristwatch will undoubtedly become the most striking element of your presentable image.
GLOBAL INDIAGOLD CLUB BLACK PREMIUM LEATHER BUSINESS BAG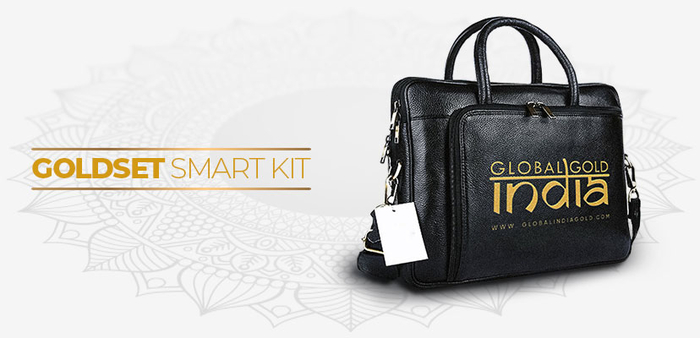 If you always have everything you need for work at hand, then you are ready for any turn of events. With the Global IndiaGold bag, your business will accompany you wherever you go.
This bag will easily fit everything that is needed for your business activity: laptop, tablet, documents, product catalogs and more. Its versatile design is ideal for any occasion, be it a major business conference or a weekend trip to the seaside.
GLOBAL INDIAGOLD GOLDSET SMART KIT — convenience and practicality combined with refined elegance.
Use these qualities to become a successful entrepreneur!